Stories in the Gardens
Wellfield Botanic Gardens provides the idyllic backdrop for 'Stories in the Gardens', presented by the Elkhart Public Library. Meet in our Children's Garden to listen to a children's story read by the staff of the Elkhart Public Library. It's interactive family time in a gorgeous setting.
Stories in the Gardens is included with Membership or Standard Admission (Free for Elkhart County residents on Tuesdays, proof of residency required for adults) and happens on Tuesdays from 5:30-6 p.m., May through September.

As the Gardens close at 6 p.m., all guests must exit as soon as Stories is over. If you'd like more time in the Gardens, please plan on visiting before Stories begins.
---
Little Sprouts – returns to Wellfield, Summer 2023!
Learn about the natural world around us through stories, music, activities and garden walks. This family activity targets preschool through early elementary age children. Please include children AND accompanying adults in your registration. This program is free with admission to the Gardens or with membership – click the link below to register!
We'll meet in our Children's Garden on the 2nd Wednesday and last Saturday of the month from 10-10:45 a.m. for some hands-on fun.
Registration required; walk-ins accepted.
---
Drop-in Activities
These fun, family-friendly programs will happen periodically throughout the year. Meet in our Children's Garden for some hands-on fun. These programs are free with admission to the Gardens; some require registration so we can plan for supplies.
Upcoming Drop-in Activities:
Saturday, April 22, 2023 – 12:30-2:30 p.m.
Celebrate Earth Day! Enjoy the beauty of Wellfield as you learn a little more about where your water comes from and how you can help protect our Earth! Activities include a water conservation activity, recycling paper by making a seed bomb to take home (Seed Bomb) and a self guided scavenger hunt throughout the gardens! Registration is appreciated!
This activity is free with admission to the Gardens; we're open 10 a.m.-6 p.m.
Sunday, April 30, 2023 – 12-2:30 p.m.
Join us to celebrate El Dia de los Niños, in partnership with the Elkhart Public Library.
---
StoryWalk® – Spring 2023!
As we celebrate 2023: The Year of New Horizons at Wellfield, enjoy this book while you walk around our main promenade.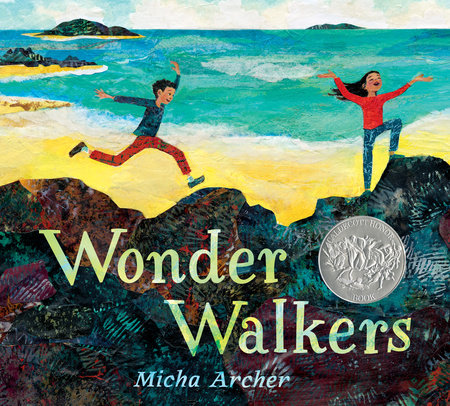 "Wonder Walkers" by Micha Archer 
When two curious kids embark on a "wonder walk," they let their imaginations soar as they look at the world in a whole new light. They have thought-provoking questions for everything they see: Is the sun the world's light bulb? Is dirt the world's skin? Are rivers the earth's veins? Is the wind the world breathing? I wonder . . . Young readers will wonder too, as they ponder these gorgeous pages and make all kinds of new connections. What a wonderful world indeed!
Kids of all ages will enjoy our 1/2-mile StoryWalk® around the Main Promenade Trail at Wellfield. The story is divided into numbered stations (numbered 1-17), mounted on purple posts, and follows a counterclockwise direction around the main Promenade Trail. Enjoy "reading" the book while you walk the Gardens, then take home your own copy after you visit our Gift Shop!
The StoryWalk® Project was created by Anne Ferguson of Montpelier, VT and developed in collaboration the Kellogg Hubbard Library. Storywalk® is a registered service mark owned by Ms. Ferguson. Wellfield Botanic Gardens wishes to thank the Elkhart Public Library for their collaboration of bringing StoryWalk® to Wellfield for our guests to enjoy! Stories are changed out seasonally, and all StoryWalk® titles (current and prior, while they last) are available for purchase in our gift shop.